G'day fellow alternative surf craft freaks, thought I would share my thoughts on the ZOT - payback for all the great reviews etc that I have feasted on over the last year...
THE NEED
Due to my love of high volume short boards I have been devolping a Mccoy fetish. I have had a couple of Nuggets and an Indo semi gun from the man himself over the last few years - I love riding his boards - esp the Nuggs. My only issues with the Nuggets are: that in a thruster you can only get glasses on fins (sucks for travel and no room to change styles); they are very focussed on strong back foot surfing; and Geoff is a law unto himself, and unlike other shapers he is not really willing to make changes to his shapes - and I really want a NUG quad (he reports he does not want to fcuk the design). This makes it had for anal surf board geeks such as yours truely to experiment with changing the shape/fins/ on their boards.
Thus I was using a 6'10" Nug as my 80% board even though there were issues that I would like to have changed. This Nug was fantastic - esp in bigger surf; handled an decent Indo trip very well; and great for the blend of beachies and points I surf on the Sunny Coast. After a year on this Nug - I contacted Geoff seeking a new board that may be a bit looser, more flexible for my front foot style; and preferable with removable fins.
He replied that he had a new model (aug 2010) the Astron Zot - would be perfect for my needs - but was a single fin only shape - however making this move to a good single would blow me away. He suggested a 6'8" as the Zot is wider than the Nug - and that this would be great on anything up to 4foot (old school).
This got me thinking and thinking...and while I was not sold on the single fin thing - I loved the shape and it seemed well suited to my needs. How I could get one?
Only issue was that I was over my years board allowance (which is very strictly policed - for my own good??) - the only solution was to flog my 6'10""Nug to a mate (with a sell back clause should he want to move it on) - plus I have a 7'2" Nug for big days, so I convinved myself this would make more "Quiver Sense" - and then quickly placed an order.
The Board
Standard Astron Zot - typically strong glass job - 6'8" x 22" X 3 & 1/8th" .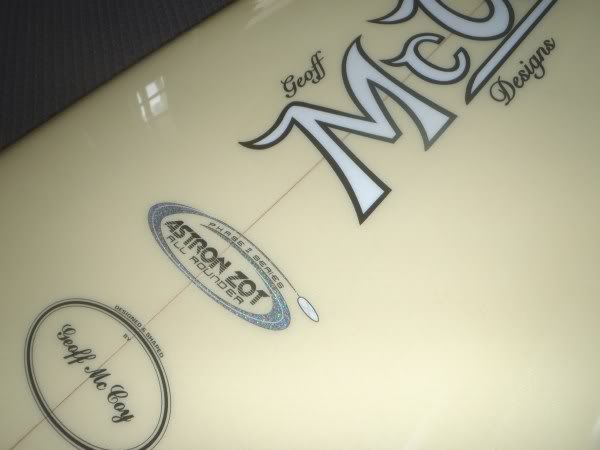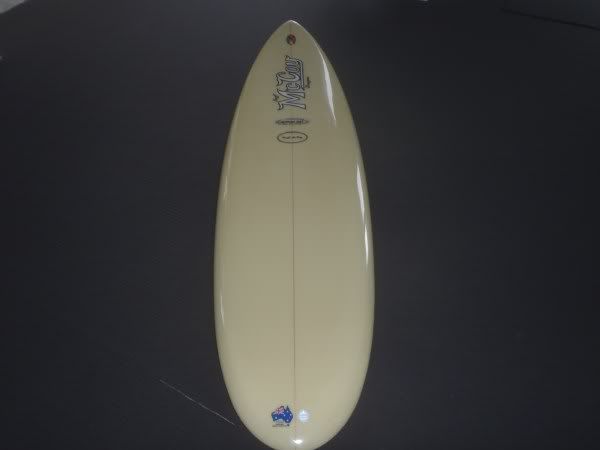 To give an idea of the outline - its set next to my 6'10'' Nug and an older more standard 19.5" Mccoy shape.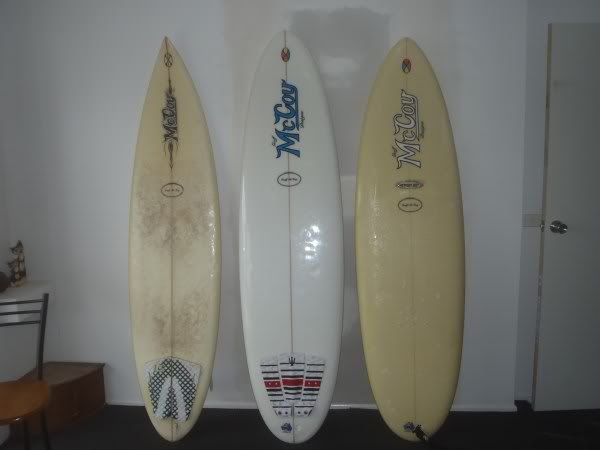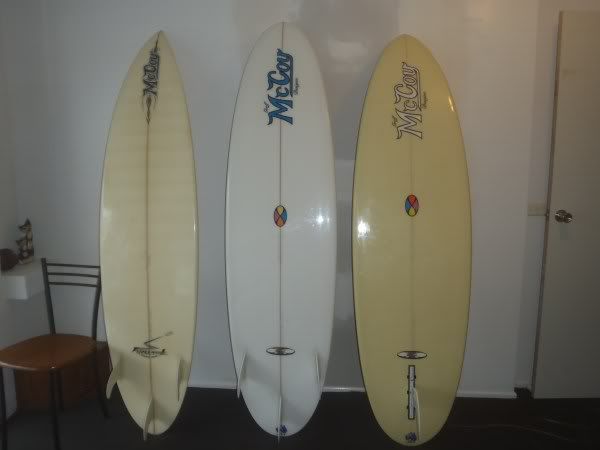 Despite being wide & thick , throughout - the Mccoys are not ironing board flat like lots of fish style - one of the things I love about the Mccoys is that they have a good nose rocker to make steep drops easy. Anyone who has surfed Mccoys knows how sweet they take a drop.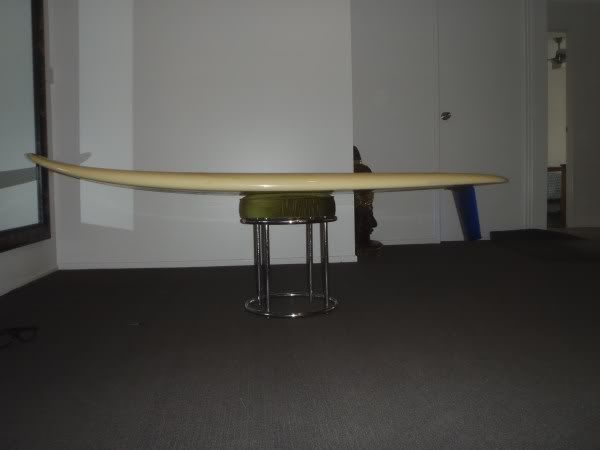 The single fin was pretty new to me (last single was an old Hot Stuff when 18 - one I should have kept...). On an earlier picture you will see the original gull wing - I snapped this on a rock on my third surf and have since tried a couple of alternatives - my favourate of which is the wave grinder shown: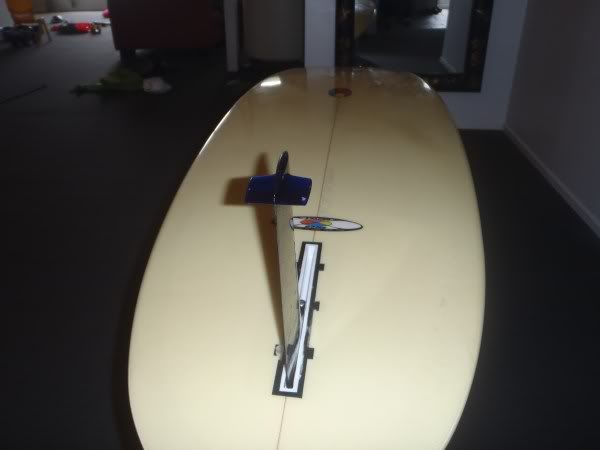 THE RIDE.
The ZOT takes a while to get used to - I have waited for 3 months to review. I do not find it as versitile as the Nuggets - which can be a one board quiver. It goes well on my forehand - paddles in very easily takes the drop well and just sucks on the face - the steeper the better. While it is far from ''high performance'' it turns with great flow and kicks out a lovely spray. It is very moneverable - and I know its funny seeing its so wide - but somtimes it goes like a greased pig and you have to hang on.. but its just the best feeling.
It is my alltime fav. board on small days - you get in early and the thing just makes speed and flys.. the volume, thick round rails and single fin = speed. Like most high volume short boards you dont have to pump to generate speed - rather just glide between section - picking up the power pockets from the wave.
Unlike the NUG - I dont feel as comfortable when the size gets up (its my board of choice for faces up to about 8 ft - a bit over head); and I also struggle on my backhand. I think this backside weakness may be to do with the single fin as my quads and thrusters just seem to have more control as I turn back up the face after a drop - where as on my front side I like this loss of stability as I am more able?
THE FINS
I have tried a couple of fins: the original gull wing went well - but had it too short to be conclusive. Swapped to a standard wide dolphin style fin: the board changed completly - lots of hold - very stiff an great for a big drop - but lost the greased pig feel that I love about the ZOT - and no quick turns or direction changes.
Moved to the Wavegrinder fin: see below blurb that sucked me in:
Combining NASA-proven winglet technology with sailing's America's Cup-proven hydrodynamics principles, the WavegrinderTM surfboard fin (patent 7244157) helps surfers surf faster, for longer, and catch more waves.
Existing surfboard fins use 1950s technology that has evolved little. But the CAD-designed, USA-made Wavegrinder fin uses a proven NACA foil combined with proven NASA winglet technology in a high-aspect-ratio, low-sweepback angle, short-root profile fin that has a small-surface-area shape that nonetheless creates high lift with low drag over a wide range of angles of attack.
.
Blah Blah blah.... but it got my $60 - overall its a very upright winged fin: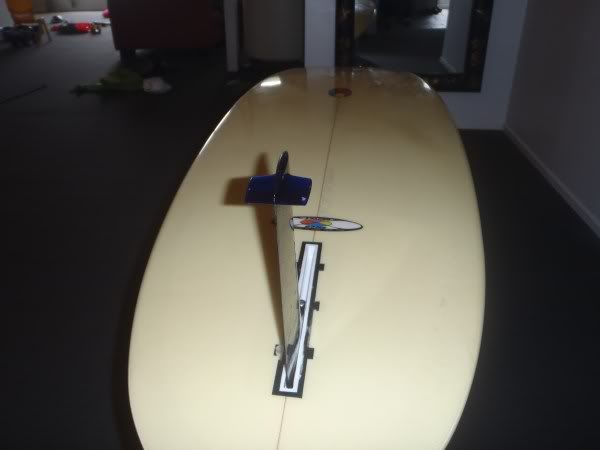 The idea is the wings make it very fast - and as its upright it turns easily. Google it on the web and You Tube - lots of stuff. Overall I really like it and have used it for two months.
I am spun out how the fin change completly changes this board. I may be doing injustice in this review due to using a different fin. But it has place in my quiver as my small to med board and I love it. It may not be as high performance as some boards I have had - but its about as much fun to surf as anything. Its funny Geoff calls this his all-rounder - where as for me thats the Nugs - I am looking forward to seeing what better surfers than me make of it - but for me its a perfect small wave magic carpet. It gets me on early and frigging flies - allowing a great smoothglide as you explore the face.
I plan to buy another gull wing off Mccoy and will update my rewiew after a couple of months on this. Now If I could only get one shaped as a quad....
Overall this board is a keeper - but my search for the perfect high volume short board continues - OG