What to do? Two questions:
1) I went for a walk to check out the surf @ my local vantage point - and what should be sticking out of the green council wheelie bin but a bourton 6'4" x 20 x2 3/8 HPR. On further inspection it had been snapped 30 cm down from the nose glass on the top side intact, and binned (fins removed). Looks like a pretty new board.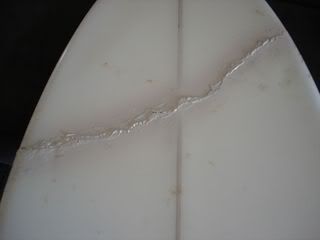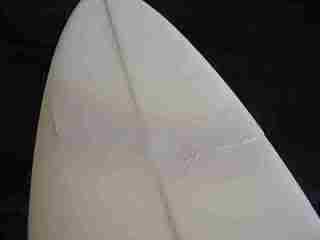 Now pls no laughter - I took it home (recycling?) it sat on my board rack for a while then one day when bored I "liquid nailed it" - sad but true - the thing has stayed solid - took it out and surfs OK, but not sealed. Should I attempt to fibre glass around it, or fill crack with resin? any thoughts? One man's trash - anothers treasure
2) Not sure what is is about bourtons - but I now have two snapped ones...My brother brought and off the shelf board 2 months ago. After about 5 weeks he snapped it in 4 ft close out beach break. Shit happens - looking at it I reckon these glass jobs are way to thin. Anyway its in half with the glass on the top side intact. A ding repair shop (Factory @ Moffat) quoted $200 to fix it, they said that after fixing it will never break again in the same spot - but as this will be "extra strong" may break somewhere else?
Do you repair snapped boards or is this not worth it?
I want to fix up my "found" Bourton - and give it to my Bro who after blowing his cash - is now riding a 6'2 x 18 1/2 x 2 1/4 toothpick and suffering - he is broke at present...
Cheers OG